Love food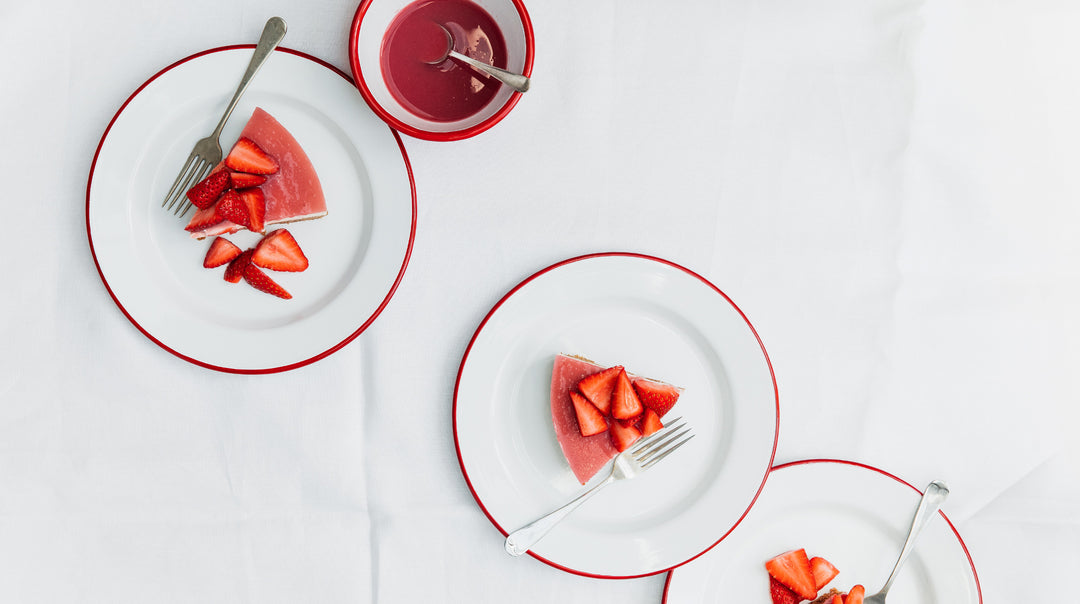 A lot of love goes into preparing food. Today we're looking at the simple gift of cooking for a loved one: show that you care by preparing something unique and delicious for you to enjoy together.
Cooking something new, using an alternative ingredient to usual or playing with colour in your recipes are all charming ways of testing your skills in the kitchen, as well as demonstrating a sense of devotion.
We have two exclusive recipes to help you do just that, including a sensational Ricotta Strawberry Cheesecake and a nurturing Spiced Cherry Latte. Both will surprise your loved one and inject a bit of warmth and colour into their day.
Ricotta Strawberry Cheesecake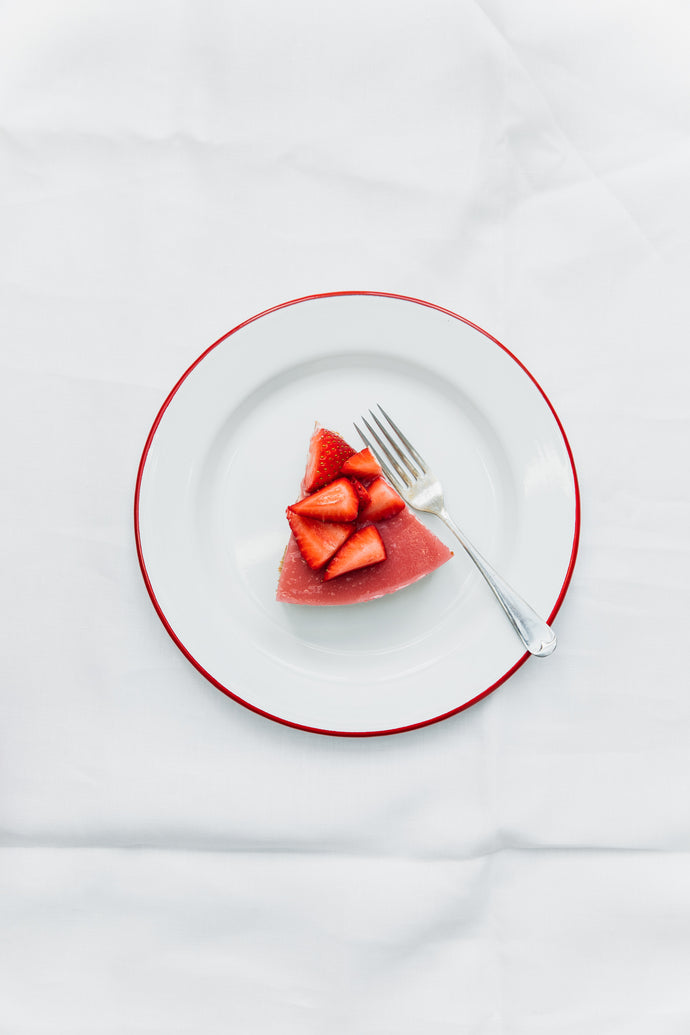 Ingredients
12 digestive biscuits
100g butter, melted
3 tbsp sugar
200g ricotta
1 lemon, juiced
2 1/2 tsp powdered gelatine
150ml whole milk
2 large egg yolks
1-2 tbsp caster sugar
Vanilla extract
120g cream cheese
100ml double cream
3/4 tsp unflavoured gelatin
7 tbsps strawberry juice
2 tbsp sugar
1/4 teaspoon cornflour
Method
Strain the ricotta overnight, in a sieve lined cheesecloth, over a large bowl.
Preheat your oven to 180°C and line the bottom of a 20cm springform cake tin with parchment paper.
Combine the digestive biscuits and sugar in a food processor, adding the melted butter until combined. Press into the bottom of the cake tin, and bake for 10-15 minutes.
Combine lemon juice and gelatine, and set to one side.
In a small saucepan bring your milk to scalding, as it begins to steam but before bubbles begin to form. Combine 1 tbsp caster sugar, and egg yolks and gradually pour in the scalded milk - stirring continuously until fully combined.
Rinse the saucepan and return the milk and egg mixture to the clean pan. Place over a low to medium heat, and stir until it thickens. You'll know this is about to happen, when the mixture begins to steam, so watch it very carefully. When the mixture evenly coats the back of a wooden spoon, it is ready. Taste, and add more sugar if required.
Stir the softened gelatine into the custard, with a drop off vanilla extract, until completely dissolved.
In a separate bowl whip the double cream until medium peaks form.
Add the drained ricotta to a food processor, mixing until smooth, then add the cream cheese and mix again until smooth. Slowly pour in the warm custard to combine, then transfer to a bowl, and fold in the whipped cream.
Pour this mixture into the cake tin, and set aside in the fridge for 10 minutes.
To make the strawberry glaze combine 2 tbsp of strawberry juice with the gelatine and set to one side. In a separate small bowl combine 1 tbsp strawberry juice with the cornflour and set aside. In a saucepan combine the remaining juice, and the sugar over a medium heat until dissolved and just beginning to boil. Whisk the boiling mixture into the cornstarch mixture, and then stir in the softened gelatine mixture and stir until dissolved. Let cool, and then pour over the cheesecake, tipping the pan as you go to evenly cover the cake.
Chill in the fridge for 1 hour, carefully remove the cake tin, and top with quartered strawberries to serve.
Spiced Cherry Latte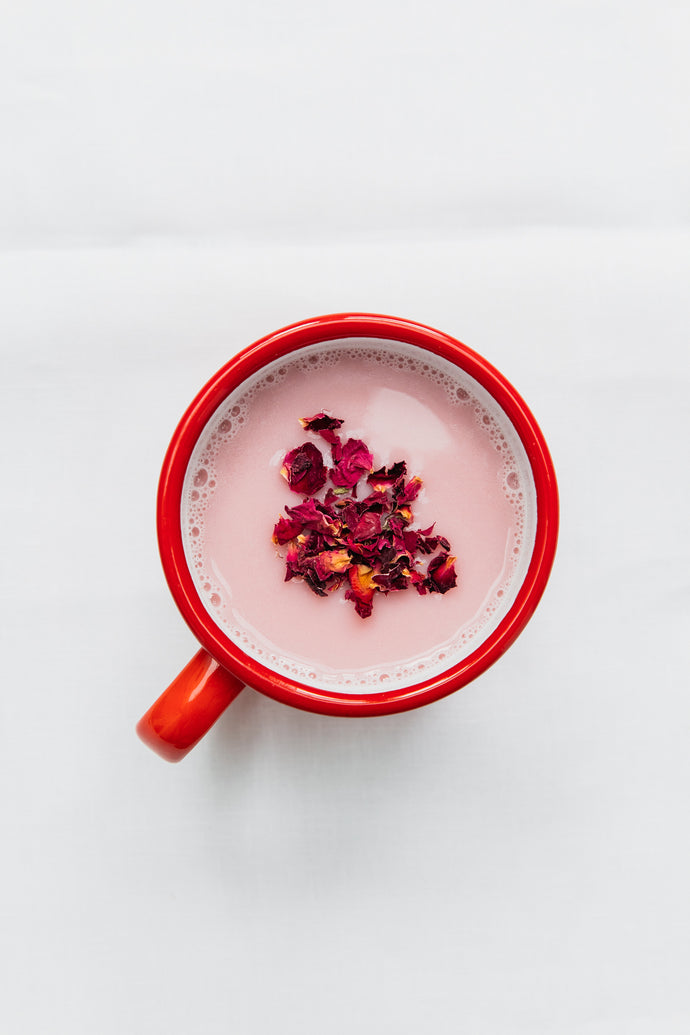 Ingredients
500ml water
1 tsp turmeric
1 cinnamon stick
1 inch fresh ginger, sliced
3 cardamon pods
5 pink peppercorns
1 tsp sugar (optional)
1 tsp coconut oil
500ml almond milk
100ml cherry juice
Maple syrup and rose petals to serve
Method
Add the water, sugar, and spices to a pan and simmer on a low heat for 10-15 minutes, then strain into a jug and stir through the coconut oil.
Heat the milk and cherry juice in a saucepan over a medium heat, whisking until frothy.
Pour the spiced syrup into a mug filling about 1/3 and then top up with the warmed cherry milk.
Sweeten as desired, and sprinkle with rose petals to serve