Plate Sets
Our enamelware range consists of two variations of the enamel plate. The first is our classic 9½" plate sets. Each set contains 4 plates with the rim of these plates available in 4 different colours; Blue, Pillarbox Red, Pigeon Grey and Black. Alternatively, we also have deep enamel plates, available in the same colours but with a width of 8.7" and a depth of 1.4". These plates are great for pasta and fresh salads.
Featured Products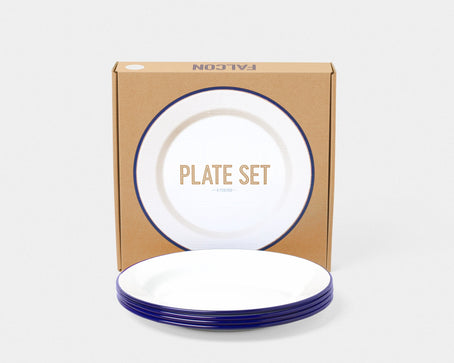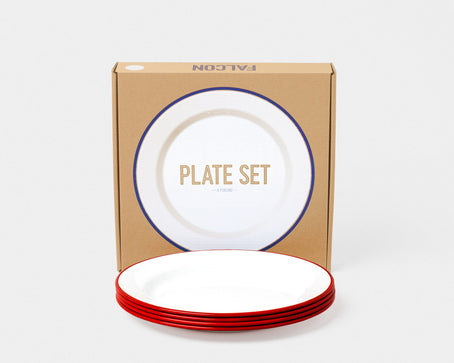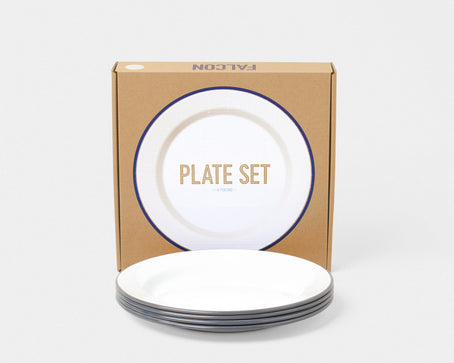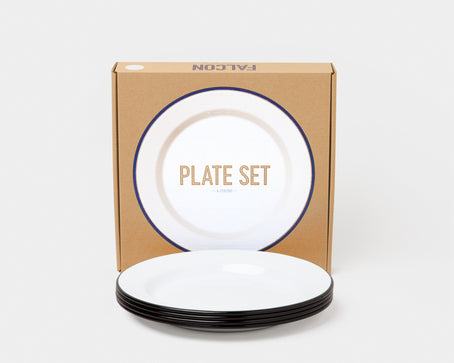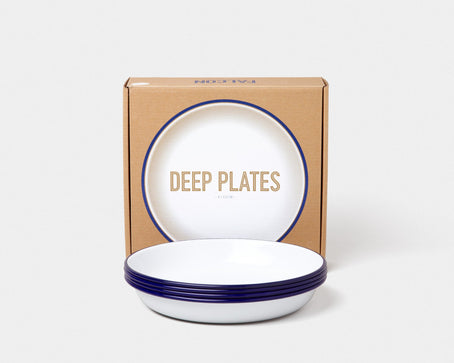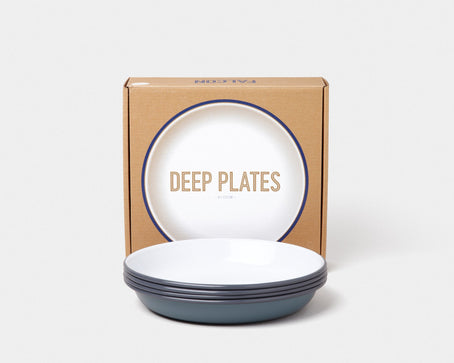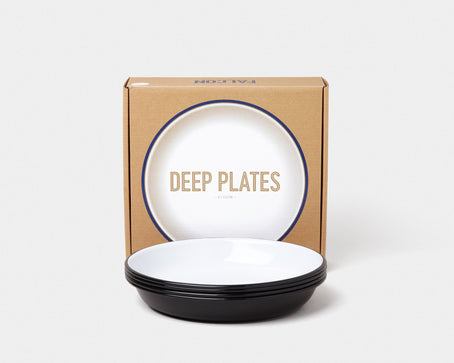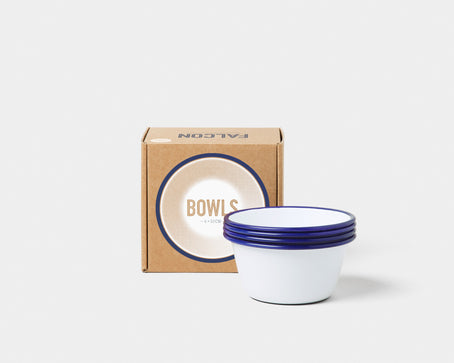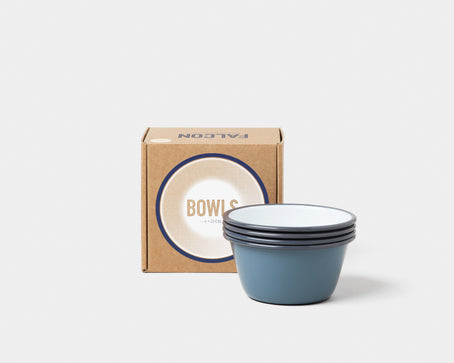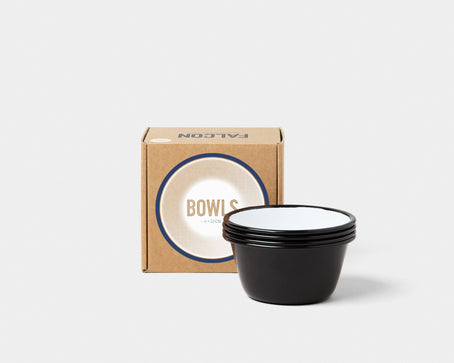 Barbecues have a long and detailed history in the US with the first recorded mention of a 'barbecue' in 1672. This method of cooking remains popular in the present day with barbecues being used to bring people together and share a bonding experience. However, a barbecue is no longer just about the meat, with the side dishes proving an important element of every cookout. Our Deep Plates are great for serving potato salad, coleslaw, cornbread and much more. Additionally, the depth of the deep plates makes them ideal for using to marinate the meats.
Our 9½" plate sets are also great for outdoor dining. The plates have been carefully designed to stack neatly together, taking up little space in your hamper or bag for camping trips or picnics. Enamelware is a lightweight, yet strong, material due to its thin but unbreakable steel core. Additionally, enamel plates are a useful camping item as they are easy to clean due to their low porosity, making them naturally non-stick. With a light spritz of oil before cooking, food can be cleaned off very easily. And for the tougher stains a few simple tricks, such as using lemon juice and salt or baking soda, get your enamelware looking good as new again.
We love to use these plates for dinner parties and family gatherings during the winter months. Our 9½" enamel plates are great for 'help-yourself' style dinners with the deep plates being used to serve food in the centre of the table. Additionally, all our enamelware is dishwasher safe, saving you time washing up, so more time can be spent with your family.
The versatility of these plates makes them a great gift for any friends or family that love to host dinners, or for adventurers that need lightweight dishes to take on weekends away.
Below find two delicious recipes to be served on our enamel plates throughout the year.
Halloumi, potato and jalapeño skewers with sour cream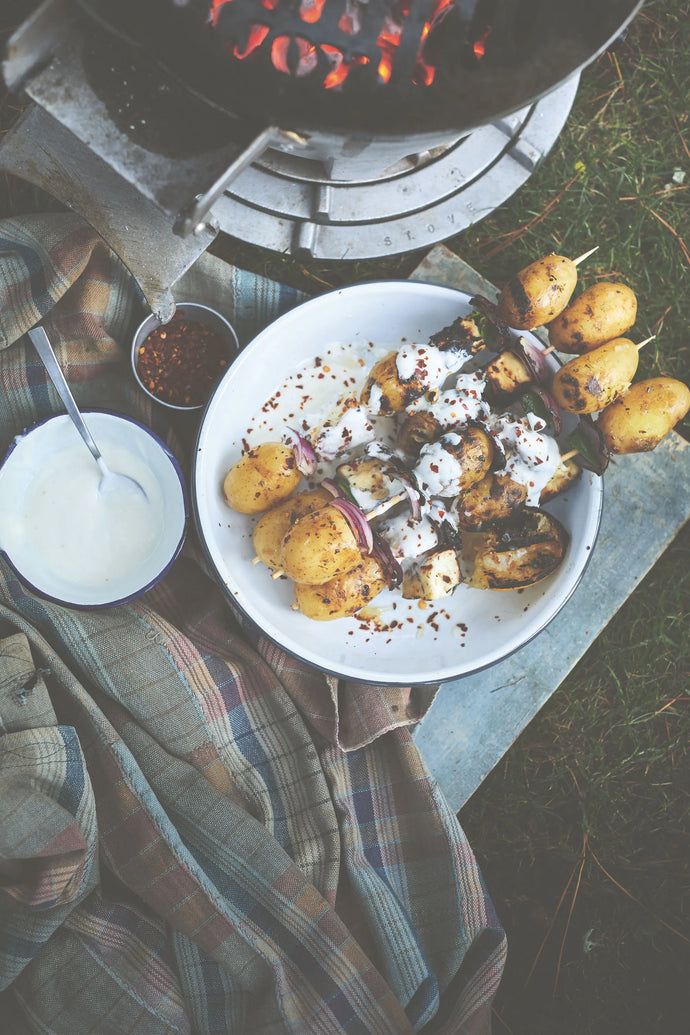 Ingredients
2 x 225g (8oz) packets of halloumi (about 2 packets), cut into 3cm (1¼in) cubes
500g (1lb 2oz) baby new potatoes, boiled until tender
2 jalapeño chillies (or other green Halloumi chilli), cut into 6 pieces (deseeded if you want less heat)
1 large red onion, cut into 6 wedges

3 tbsp olive oil, plus more to serve
1 tsp sweet or hot, smoked or unsmoked paprika
1 lemon, quartered
150g (5½oz) sour cream (1 small tub)
salt and black pepper
chilli flakes, to serve
Method
1. In a bowl, toss together the halloumi, cooked potatoes, jalapeños and onion in the olive oil, paprika and juice from two of the lemon quarters. Season with salt and pepper (remembering the halloumi is salty).

2. Thread everything in equal proportions onto the skewers. Grill over a moderate–high heat for about 5 minutes, turning every so often, until everything is golden and lightly charred.

3. At the same time, grill the remaining lemon quarters, cut-side down, until charred and juicy.
4. Season the sour cream to taste with a good pinch of salt and put to one side in a bowl.

5. Remove the skewers from the grill and drizzle with the sour cream. Trickle over a splash more olive oil and juice from the grilled lemon quarters, then sprinkle with chilli flakes to serve.
AUTUMN BERRY CRISP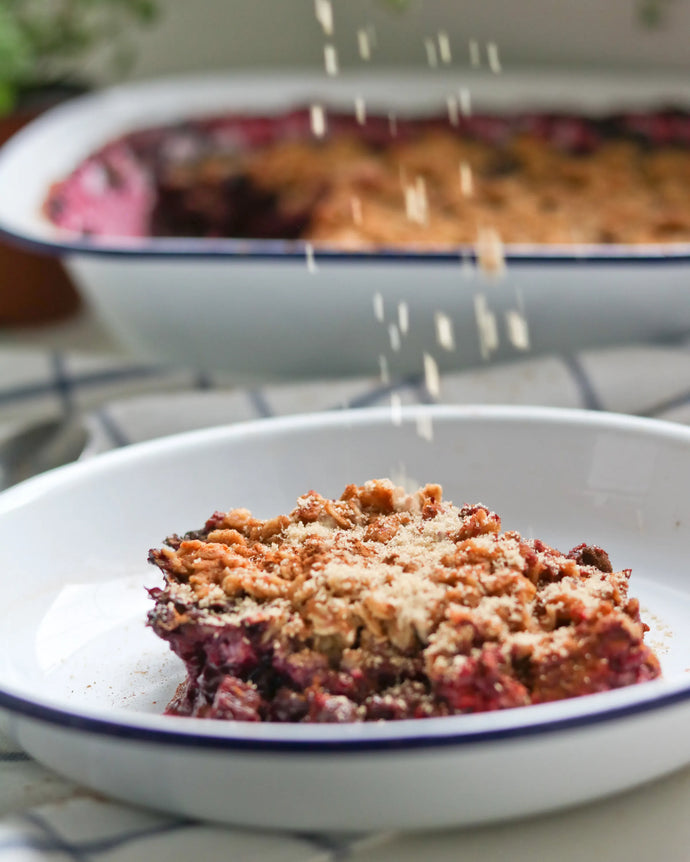 Ingredients
5 cups of seasonal berries such as blackberries, damsons or frozen blueberries 
1/4 cup brown sugar 
A knob of butter

TOPPING
1/4 cup butter softened 
1/4 cup brown sugar 
1/4 cup flour 
3/4 cup oats
1/4 teaspoon cinnamon 
Method
1. Preheat oven to 200C/180C fan/gas mark 6
2. Put the berries into a pan with the sugar, butter and a splash of water and heat gently until the berries start to give off their juices.
3. Place in your Falcon bake pan or pie dish. 
4. With a fork combine the butter, brown sugar, oats, flour, and cinnamon until crumbled, and sprinkle over the berries. 
5. Bake 35-40 minutes until the top is golden brown and the berries are bubbling. 
6. Cool slightly and serve with custard.
Custard recipe
1. Bring 2 cups of milk to a boil in a saucepan over medium heat.
2. Mix 1/2 cup white sugar, 2 tbsp cornstarch, 3 egg yolks, 1 tsp vanilla and 1/2 tsp salt in a small bowl.
3. Carefully stir into boiling milk until it comes to a boil.
4. Remove from heat and serve.