Pie Dish
Pie dishes are an essential item in every kitchen due to their versatility. We have a range of enamel pie dishes in our collection ensuring that you have the right-sized dish for whatever occasion you are catering for. The iconic and timeless design of our pie dishes means that they are not only practical for cooking in but are also beautiful to use to present your dinners.
Pot Pies are one of the most popular pies in the US with a long history behind them dating back to the Roman Era. The Romans regularly served savoury pies, that hold many similarities with the modern-day pot pie, at banquets. These would be filled with meats, fish and mussels. Our individual pie dishes which are just under 8 inches long are great for creating homemade pot pies. We love the idea of making a variety of different fillings to go into the pies for a dinner party, and presenting your pot pie feast in the enamel dishes they were cooked in.
Sweet pies can also be created in our enamel pie dishes. Use our large 12-inch pie dish for a warming peach cobbler. Or our smaller 11-inch pie dish for a delicious pecan pie. Our enamelware pie set will kit you out for the holiday season, with enough pie dishes to ensure that you can prep all your sweet and savoury pies in advance of the big days.
Our small 8-inch pie dishes are great for neatly storing leftover food in the fridge. If you are trying to reduce your reliance on single-use plastic, switching out disposable food containers with long-lasting enamel is a great way to start. Simply pop your leftovers in one of our pie dishes and cover with a reusable wrap. Beeswax food wraps are a great investment that helps cut down on your use of plastic wrap or aluminium foil. They are durable and the tacky texture of the beeswax when warmed by your hands ensures that they can be moulded easily around containers. As all our enamel plates and dishes are freezer safe, they can also be used to freeze leftover food safely.
If you are looking for an alternative use for your pie dishes, try using them for side dishes and salads. Below is a recipe for a nourishing harvest salad which looks beautiful served in our individual enamel pie dishes.
A SIMPLE HARVEST SALAD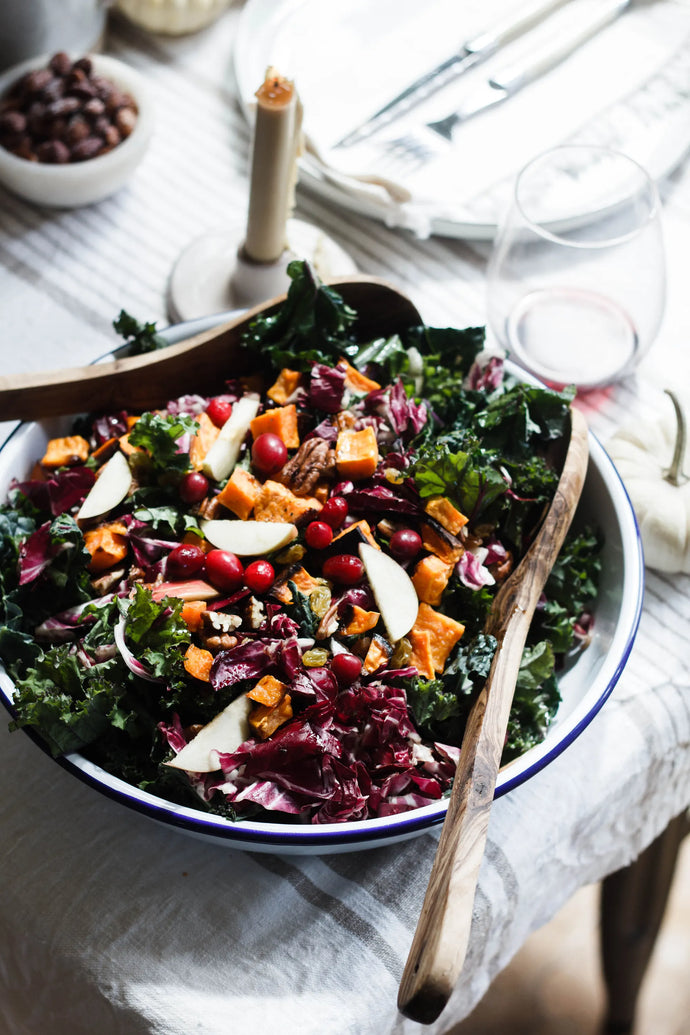 Ingredients
3 sweet potatoes, cubed into 1" pieces
1 bunch of tuscan kale, also known as lacinato kale
1 bunch of red kale, roughly chopped
2 cups of radicchio, roughly chopped
2 McIntosh apples, thinly sliced
1 cup of chopped pecans
1/2 cup of raw pumpkin seeds
1/4 cup of fresh cranberries




For the walnut and maple vinaigrette:

•​​ 3 tablespoons of roasted walnut oil
•​​ 2 tablespoons of balsamic vinegar
•​​ 2 tablespoons of minced shallots

•​​ 1 tablespoon of grainy mustard
•​​ 2 tablespoons of maple syrup (Preferably Grade B)
•​​ A pinch of sea salt
•​​ Cracked Pepper to taste
•​​ Preheat the oven to 450 degrees.
Method
On a baking sheet, spread out the sweet potato pieces. Drizzle olive oil over the potatoes with a pinch of kosher salt. Roast until tender and lightly brown about 30 minutes.
Meanwhile, hold the tip of the stem of the kale in one hand and pull down along the stem with your other hand, removing the leaf. You can also cut the rib away from the stem if you wish to use a knife. Chop the kale into 1" pieces. Set aside.
In a large mixing bowl, add the vinaigrette ingredients and whisk until combined.
Add the kale, radicchio, apple slices, pecans, pumpkin seeds, and roasted sweet potatoes.. Gently toss the salad with the vinaigrette until fully coated. Sprinkle on the cranberries to garnish. Serve with fresh cracked pepper.
Note: If you have the time to roast the seeds, all the better! On a baking sheet or cast iron pan, gently toast the seeds in the oven at 350 degrees until fragrant and slightly crisp, about 8 -10 minutes.