A SEASONAL TAKE ON THE TACO
With mangos starting to come into season what better way to introduce it back into your recipes than with these sweet & spicy mango tacos from Jeanine at Love & Lemons.
This is a moreish vegetarian weeknight dinner for the whole family to enjoy. It's particularly quick as all you have to cook is the black beans and simply warm or char the tortillas. Jeanine recommends adding spice to taste here, with more or less chili powder, chile, and/or sriracha, depending on your preference.
We interviewed Jeanine last year and have always been fond of her love for fresh, bright and seasonal produce. She cooks happy, healthy veggie recipes and has recently launched her new cookbook 'Love & Lemons Everyday' with over 100 all-new vegetarian dishes to try at home.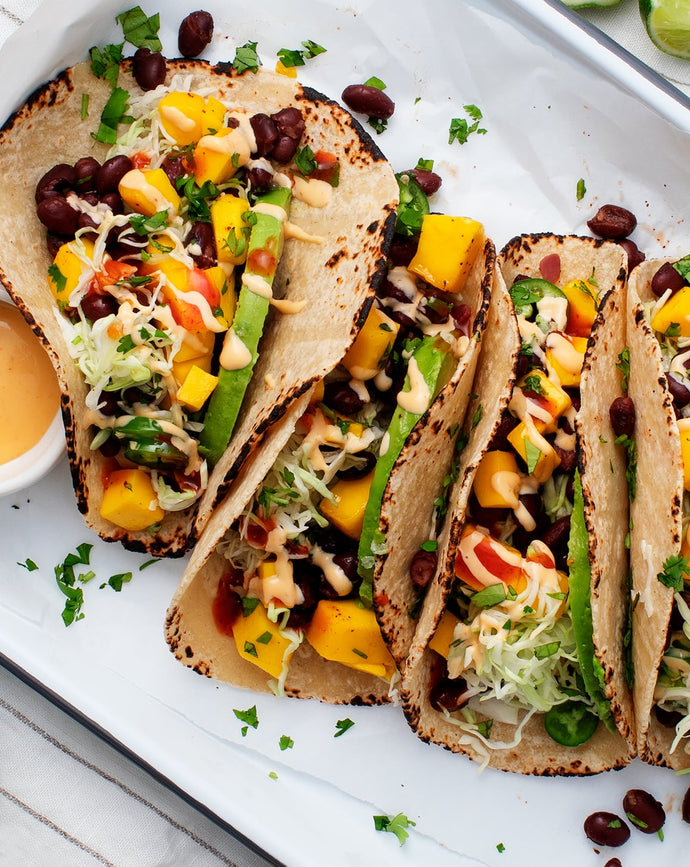 Ingredients
4 to 6 tortillas, lightly charred or warmed
1 cup cooked black beans, drained and rinsed
2 limes, divided
2 teaspoons sriracha
2 cups shredded green cabbage
½ avocado, thinly sliced
½ mango, diced
2 tablespoons chopped cilantro
2 tablespoons crumbled feta or cotija cheese
sliced serrano pepper and additional sriracha, for serving, (optional)
sea salt
spicy mayo
⅓ cup mayo (highly recommend Sir Kensington's Avocado Oil Mayo)
¼ to ½ teaspoon chili powder (optional)
Method
In a small bowl, combine the black beans with 1 tablespoon of lime juice, ¼ to ½ teaspoon chili powder, and ¼ teaspoon salt.
Make the spicy mayo: In a small bowl, stir together the mayonnaise and the sriracha.
Toss the cabbage with a squeeze of lime (1 teaspoon or so) and a few pinches of salt.
Fill each tortilla with the cabbage, avocado slices, black beans, mango, cilantro, the spicy mayo, and feta cheese. For spicier tacos, serve with sliced serrano peppers and extra sriracha. Serve with lime slices on the side.